About
Fiction Worth Reading: a challenge to myself and a pledge to my readers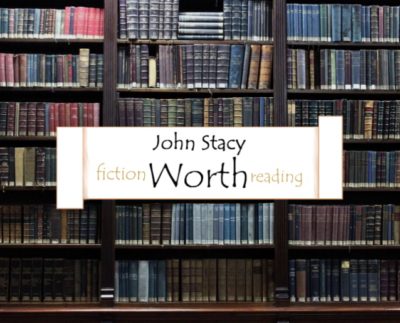 I knew when I chose Fiction Worth Reading as a site title it might come across as pretentious. But then I thought "Well, am I writing trite garbage that isn't worth reading?" (Wait, don't answer that! At least not until you've read my work.) I also figured if Joanna Penn could host a great podcast called 'The Creative Penn' then I was in good company with the whole 'using my name as a cool marketing strategy ' thing.
So I sat down and examined my goals: I wanted to write quality, entertaining fiction driven by memorable characters. I wanted to explore the human condition: our struggles and longings, our strengths and frailties, our failures and triumphs, all with an ultimate sense of hope. I also wanted to have fun. To make readers laugh, cry, gasp, and turn the page for more. I wanted to stimulate the mind and engage the emotions. For myself and my readers to experience the story and come away with greater clarity and a deeper encounter with Truth.
I realized then, like any author, I really did want to create Fiction Worth Reading. So I stuck with the title and condensed my goals into the tag line "a challenge to myself and a pledge to my readers". Of course it's a play on my surname, but it lets me pay forward as well, by also promoting the works of authors I've read and recommend.
All that said, if you're browsing the site and like what you're seeing, l invite you to join my readers group, using either one of the opt-in buttons; there's one at the top and one at the bottom of most pages. If you do join, I assure you, you'll be so glad you did. I won't flood your inbox. Just an email now and then to announce price drops, new recommendations, occasional promos, and when I'm about to release another book. And I always try to give more than I get.
Let me explain what I mean by that last statement.
There are multiple ways to get the entire series. The cheapest way is to support me on Patreon. By pledging there for $1 a month you can get all three ebooks. Then you can just as easily stop your support and have the entire trilogy for $1. (With continued support, you'll also get pages of works in progress and even short stories every few months. But like I said, you can end donations at any time. It's up to you. I just like to think of it as a tip jar for my most ardent fans.)
Another way to get the trilogy for an unbelievable price is to get book one for free at any online retailer where it's available. You then can get book two for free by joining my readers group. At that point my third book, Requiem, is the only one you really have to pay for. And it's very fairly priced at $2.99 (at which Amazon gives the author 70% of royalties as opposed to 35% for prices below that).
Before I end this I do want to say a bit about the trilogy itself. While my story is based on the flood account of the Bible, it reads like Epic fantasy and was written with the mindset of someone immersed in the fiction of Tolkien, Leiber, Prachett, Ursula Le Guin, Roger Zelazny, Moorcock, Stephen R. Donaldson, Neil Gaiman, heck the list just goes on and on.
As I've said elsewhere on this site, you'll find prophets, warriors, street urchins, and royalty; political intrigue and personal betrayal; dragons, giants, a ragtag band of misfits; sword fights and drawn bows; visions, and incantations; love, sacrifice, and redemption.
And if you're thinking this is simply a rehash of the movie starring Russell Crowe, just read book one. Early drafts of my trilogy were written long before that movie; the only thing in common is the names of a few main characters and the foreknowledge of impending annihilation. That's all.
Now to wrap this up.
Thanks for checking out my work. It's a big deal that you spend your valuable time reading something I wrote. Readers are a large part of the reason writers succeed or fail. There is of course the craft and skill, which authors must develop. But the sad reality is thousands of very skilled writers never get much in the way of sales or attention. 

That's why I'm asking a small favor – If you like my fiction, kindly consider posting a review on Amazon. That gives my books more visibility and helps others discover my work. And be sure to tell like minded readers about my books. Send them to my free book on Amazon or to an opt-in page. Tell them it will change their lives forever.* (Because it will.) *You have to whisper that last part and do the Jedi mind trick motion with your hand. 

Thanks again. I hope you enjoy the books.
Peace,
JSW